All Apple & Android users can download ZiniTevi application from our download page direct installation links. This moment ZiniTevi is available to mobile platforms & development team is willing to release update compatible with other platforms well. We strongly recommend to install application from direct download links, Because third party apps installation will waste unnecessary time for users. Also you need to download latest version for your device. However ZiniTevi app update method is simple for users. You are unable to find any update notification message if you are not enable notification. Actually, Application notification is headache for all users. Because most users are suffering with the popup messages, You can use following method to update ZiniTevi.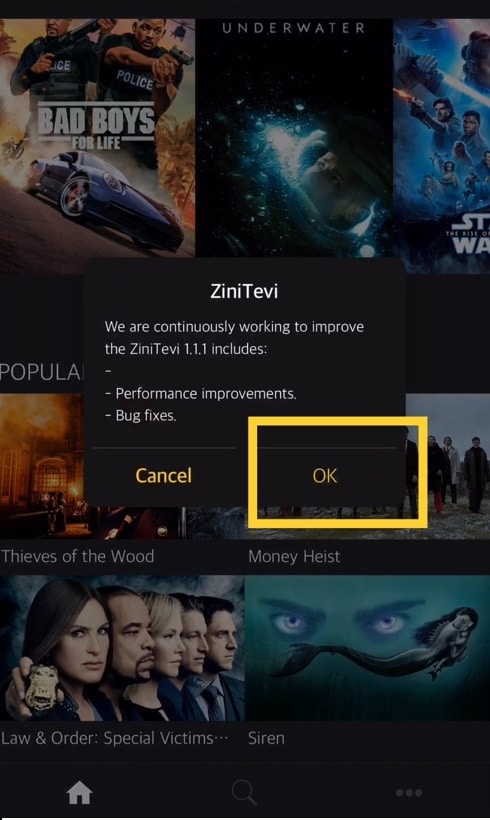 If you are New User, Follow Me to download ZiniTevi – Click Here
Way to Update ZiniTevi application(Android or iOS)?
This guide is for ZiniTevi already installed users & other users need to install this amazing application for their devices.
Tap ZiniTevi icon in your device home screen
You can see ZiniTevi new update version popup window. Please Tap "Ok" to continue installation. If you like old ZiniTevi version, Please tap "Cancel"
Then tap "Install" to continue installation for your device
You can see ZiniTevi is installing to your device & finally new ZiniTevi icon will appear in the home screen. Tap it.
You can see "Send Push Notification" message. Tap "No, Thanks" to avoid from notifications (User not need to verify application in the update process).
Now you can see ZiniTevi application is working well with your device. Tap your favorite Movie & download/watch online without any restrictions.
ZiniTevi Update failed !! How to fixed error ?
If you find any error regarding application update, Please comment to us. However follow these steps to avoid unwanted errors.
Restart your Android/Ios running device
Allow unwanted sources to install apps(Android users).
Apple users verify application under Profile & Device Management