TestFlight is one of the best application in the Apple app store. This app can use to test beta versions for developers. Users can follow TestFlight to install ZiniTevi application for your device. TestFlight ZiniTevi is the best method that can use to install ZiniTevi app for iOS devices. Why this is so important? Because this is not a revoking method. Apple users can download ZiniTevi iOS version with TestFlight App Store application. This method is compatible with iOS 9+ running iPhone/iPad/iPod Touch. You only need to follow two steps to install.
Two Steps to install ZiniTevi with TestFlight
First install TestFlight application to the device
Second install ZiniTevi using our direct download link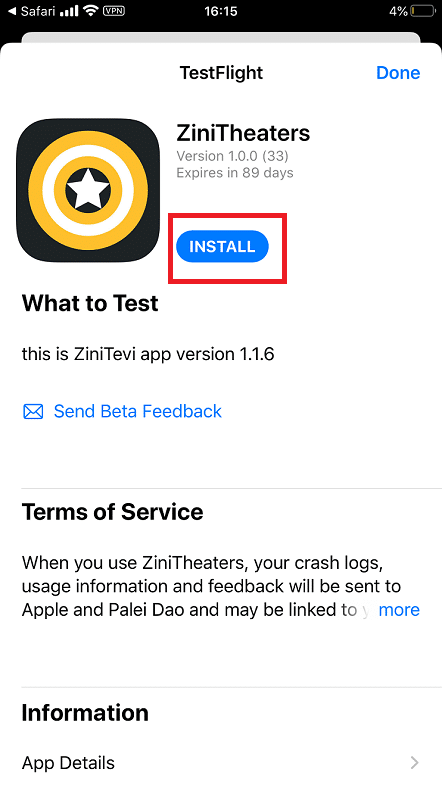 How to install TestFlight application to iPhone/iPad/iPod
Open app store & search as "TestFlight"
Then Tap Get > Then tap "Open" > TestFlight Welcome screen will appear, Tap Continue > Tap "Agree" > Then Notification window tap "Don't Allow" > Now TestFlight application will be ready with your device
Now follow our download page > Tap ZiniTevi TestFligh > Tap Install > Tap Open > Tap Next > Tap Test Now
Then ZiniTevi application will ready for you.
This is TestFlight online ZiniTevi application installation method for users. This Youtube video is showing all steps as simply for all users. Please watch it before download application to your device
TestFlight ZiniTevi Errors
Users are unable to find any installation link embed both ZiniTevi+TestFlight application. So first user need to install TestFlight to the device. Then use TestFlight download link.
No ZiniTevi in the TestFlight ? After installation finished in the TestFlight application, you are unable to find ZiniTevi > Please follow download link to install for your device.
Unable to install application – Please restart your device & try above installation process again.
"This beta isn't accepting any new testers right now" – This error happened with old TestFlight ZiniTevi download links, So please follow latest download link every moment to install application.